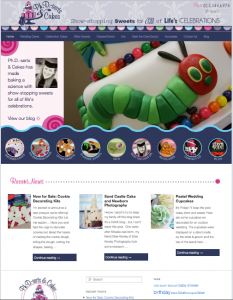 Just wrapped up the first incarnation of the official website for Ph.D.-serts & Cakes in Tampa, Florida.  We created the logos for them earlier in 2011.
The origin of the unique name is the owner, Melanie Judge's hard-earned Ph.D in biomedical research, studying obesity.  She finished it just in time to leave the science field and delve into her passion – baking!  She has spent the last few years perfecting the art of creating beautiful, fun cakes, cookes, cupcakes and more.
In 2011 she started her own business and we were very happy to be a part of it!