I'm not sure how this always seems to happen, but again we've had two sites go live in two days! And they're two very different sites with one thing in common, they definitely have a bold color palette!
---
One is a temporary landing page for the reopening of Bo Diddley Plaza in downtown Gainesville, Florida. We are also excited to be currently building the main site for Bo Diddley Plaza that will go live after they reopen! So stay tuned for that too.
See the Bo Diddley Plaza Landing Page »
---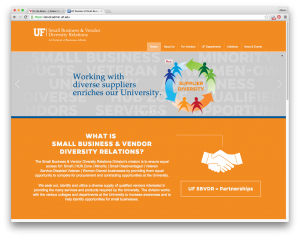 The other is the new site for the University of Florida Division of Small Business and Vendor Diversity Relations. This is a real source of pride for us because of what this division can mean for businesses just like ours — small, women-owned businesses in a very male-dominated industry with a lot of big fish to compete with!
Check out the sites. We hope you enjoy!